Creating a healing journey for everyone
Your health, safety and ability to participate fully in your recovery program is important to us. To ensure that all patients have a positive experience during their stay, Homewood's house rules, patient rights and responsibilities are outlined below for your reference.
House Rules
The Anti-violence Statement (1-260) must be honoured
Patients Rights and Responsibilities will be recognized
Smoke-free & Tobacco-Free policy and therapeutic contract must be honoured
No illicit drugs or alcohol on the premises
In order to respect privacy, unauthorized recordings of any kind are strictly prohibited on the premises
Exclusive or sexual relationships with co-patients or staff is actively discouraged and will likely result in discharge. Patients are encouraged to contact their treatment team if they are getting into difficulty.
Co-patients of the opposite gender are not to enter each other's rooms. There is no visiting in co-patient rooms, common areas only
When able, patients are expected to make their own beds each morning and change their own linen
Patients are expected to maintain a clean and tidy environment
Building surfaces must not be defaced or altered without permission (e.g. hanging pictures/posters)
Damage to premises will not be tolerated
Excessive noise will not be tolerated
Every patient at Homewood Health Centre follows key policies designed to support a healthy and respectful treatment environment for all patients.
Smoking Policy
The Homewood Health Centre is 100% Smoke-Free & Tobacco-Free. Smoking or bringing tobacco related products onto the property is not permitted.
No Latex
Due to latex allergies, articles made with latex are prohibited. Latex balloons will not be accepted at the Centre, though Mylar balloons are an acceptable alternative.
Infection Control
For the protection of our patients and staff, if you are ill or running a fever on the day of your admission, please do not come to the Centre. Call the Admitting Department to reschedule your admission for a time when you are feeling better.
Dress Code Guidelines
To help establish a respectful environment, all patient clothing must be clean and presentable. Specifically prohibited clothing includes military-style clothing or items, scrubs or other medical uniforms, and provocative or revealing clothing (such as muscle shirts, tank tops and excessively tight clothing). Clothing bearing sexually suggestive messages or images, or anything related to drugs, alcohol or gambling is also prohibited.
Nightwear Guidelines: Pyjamas, robes and lounge wear are permitted on the unit only.
Shoes and shirts must be worn at all times and must be appropriate to the activity. For example, we recommend running/training shoes for gym and outdoor activities.
Perfumes, aftershave, cologne and other scented products such as air fresheners can trigger a serious allergic response/reaction for some people. We strongly discourage bringing any scents or scented products to the Centre.
Medications
When you arrive at Homewood, please bring a 21-day supply of all doctor-prescribed medications that you are currently taking at home, a printed copy of your current medication profile from your local drugstore(s) and, if you suffer from severe allergic reactions, please bring your Epi-pens or Anakits.
Please do not bring herbal drugs or naturopathic remedies with you to the Homewood Health Centre and please also leave over-the-counter medications at home unless they are prescribed by your physician.
Your medication profile may change during your stay at Homewood. Any medications that are discontinued during your treatment period will not be returned to you when you are discharged.
Influenza Vaccine
We request that patients admitted in the fall and winter obtain an influenza vaccination through your local health unit or family doctor at least two weeks before admission. Please provide the Admitting Department with proof of your vaccination.
Homewood Pharmacy
Homewood has an on-site pharmacy. If it does not carry a prescribed medication you require, we will obtain it from an off-site pharmacy and bill you for the cost of the medication. You will receive a statement as well as the original receipt, which you can submit to your insurance company for reimbursement.
Anti-violence Statement
It is the policy of the Homewood Health Centre to:
"Promote an abuse‑free, trusting setting where respect for one another and our physical environment is maximized. We do not tolerate violence. Any threatening, hostile, and/or related inappropriate behaviour to self or others will result in immediate action. It could lead to criminal charges, internal sanctions (such as disciplinary action for staff, discharge for a patient) and, where applicable, invoice for property damage."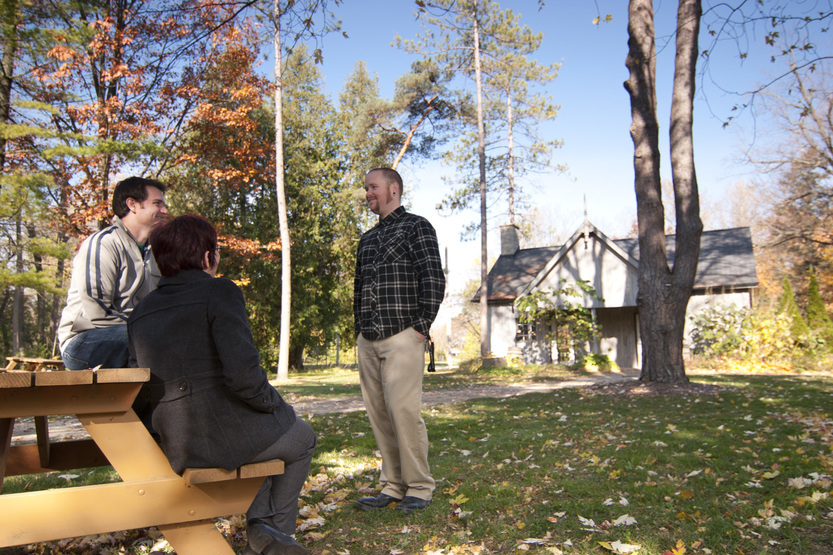 Patient Rights and Responsibilities
Homewood has volunteers who serve as Patient Representatives, dedicated to the fair and equitable treatment of all patients, and who have the authority to work with you to or work on your behalf to address any issue with any staff member in order to reach a resolution. Information is provided to patients regarding access to Patient Representatives. For more information leave a message at 519.824.1010, extension 2257. Your call will be returned as soon as possible.
As a voluntary patient at Homewood, you may leave at any time, unless the regulations of the Mental Health Act apply.
The hospital has a number of policies and procedures in place which affect your care. There are also provincial laws that may apply to aspects of your treatment. Quality care, safety, privacy, confidentiality, consent to treatment, and substitute decision‑making are just a few of the considerations taken into account during your stay at Homewood.
You have the right to:
Be treated with respect and dignity
Receive information concerning your illness and participate in the assessment of your needs and treatment
Receive appropriate guidance, support and supervision from staff
Refuse treatment to the extent permitted by law and to be informed of the consequences of your actions
Know the hospital rules and regulations that apply to your conduct as a patient
Expect that all communications and records pertaining to your care will be treated as confidential
Expect the hospital will respond to reasonable requests for service that are within its ability to provide
Request to examine your own clinical record
Be informed if the hospital proposes research affecting your care or treatment. You have the right to consent to or refuse participation in such research.
Participate in the planning of your discharge from hospital
Examine your bill regardless of source of payment
Contact your lawyer, family doctor, clergyman and a patient representative
As a patient, you are expected to:
Participate and co-operate with hospital staff in your treatment and rehabilitation
Respect the rules and regulations of the hospital
Co-operate by providing information on past illnesses, hospital visits, medications, or other matters related to your health
Respect the rights of other patients and staff
Respect the property of other patients, staff, and the hospital; you may be held responsible for any loss and/or damages incurred by your actions
Be responsible for your personal cleanliness and belongings
Keep scheduled appointments or notify staff when you are unable to do so