Are You Suffering from Clinical Depression?
Repetitive Transcranial Magnetic Stimulation (rTMS) may be a new solution for you.
What is rTMS? Repetitive Transcranial Magnetic Stimulation (rTMS) is a Health Canada approved, safe and non-invasive treatment for patients with treatment-resistant depression, patients who have partial improvement of symptoms and patients who are unable to tolerate antidepressant medications.
Committed to innovation and patient care
Homewood Health Centre now offers repetitive (rTMS). This service is provided on an outpatient basis and patients will need a physician referral to start the consultation process.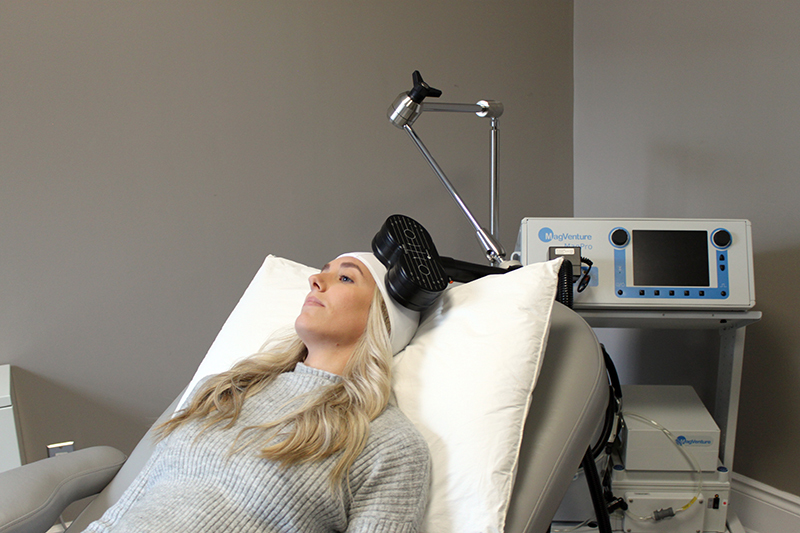 Treatment-Resistant Depression
Treatment-resistant depression is diagnosed when several alternative treatment options such as medications or psychotherapy have been explored and show minimal improvement in symptoms. In such cases, clinical research has shown neurostimulation therapies like rTMS can be a significant contributor to recovery.
Positive Clinical Outcomes
Repetitive Transcranial Magnetic Stimulation can result in positive effects on mood, reduced depressive symptoms and lasting improvements in mental health, particularly when conventional therapies have failed to produce the desired response.
Did you know ...
... that up to 30% of people suffering from major depression are resistant to treatment and will not respond to antidepressants or psychotherapy.
How does rTMS Work?
rTMS works by directly stimulating the brain's regions involved in regulating mood which may be underactive in patients suffering from depression. The brain is stimulated with a series of targeted, magnetic pulses. With repeated treatments, the magnetic pulses aim to strengthen brain connectivity which can contribute to bringing patients back to stability.
The location and frequency of the magnetic pulses are based on a set of protocols that have been determined by medical research. A certified rTMS psychiatrist will complete the assessment.
Typical individual sessions are completed within one hour and are monitored by dedicated nursing staff.
When compared to other psychiatric interventions, rTMS carries minimal side effects. Common side effects may include a mild headache, neck pain or scalp pain at the site of stimulation. A thorough screen will be completed to ensure minimal side effects. Unlike ECT, no anesthesia is required and cognitive impairment or sedation is usually not associated with rTMS treatment.
What to Expect
Once you are referred by your physician an initial consultation will be performed by the rTMS psychiatrist. Those signing up for treatment are required to be available for daily sessions and should allow one hour during each weekday for treatment at the Homewood Health Centre in Guelph.
Treatment is not performed on weekends or holidays.
Who is Eligible for Treatment?
Health Canada has approved rTMS therapy for treatment-resistant depression. Indications for other psychiatric disorders with rTMS are actively being conducted. Please ask your physician if you are an appropriate candidate.
Is There a Cost?
Currently rTMS is not covered by OHIP. Please contact the rTMS team for more information on pricing and to book your assessment.
For additional information about rTMS and whether it is appropriate for you, please speak with your physician or contact the Homewood Health rTMS team at:
519-824-1010 ext. 32546
Referrals can be faxed to 519-767-3532
If you're interested in other Homewood programs, click below.
See all Specialized Elective Programs