Mood, Anxiety & Concurrent Program
Delivering Specialized Care for Mood, Anxiety and Concurrent Substance Use
Homewood's Addiction Medicine – Mood, Anxiety & Concurrent Program is a comprehensive holistic 9 week treatment program that puts equal emphasis on the treatment of concurrent mood and/or anxiety and substance use disorders.
The term "concurrent disorder" is used when an individual struggles with one or more mental health issues at the same time that they are dealing with substance use disorder. Treatment for concurrent disorders is most successful when both problems are treated at the same time. Concurrent treatment programs allow patients time to explore the intersection of their mental health and substance use issues more fully, while learning skills and developing plans to enhance wellness, both in the treatment setting and beyond. Homewood provides individuals living with concurrent mood/anxiety and substance use disorders exceptional, medically-managed care through in-person, patient-centred care.
Treatment is overseen by addiction physicians as well as an interdisciplinary team that includes , psychotherapists, nursing professionals, occupational therapists, recreation therapists, consulting psychiatry and other allied health professionals. The Mood, Anxiety & Concurrent Program also offers a stream dedicated to healthcare providers that is based on current, leading research about the impact of COVID-19 on the mental health of these front line workers.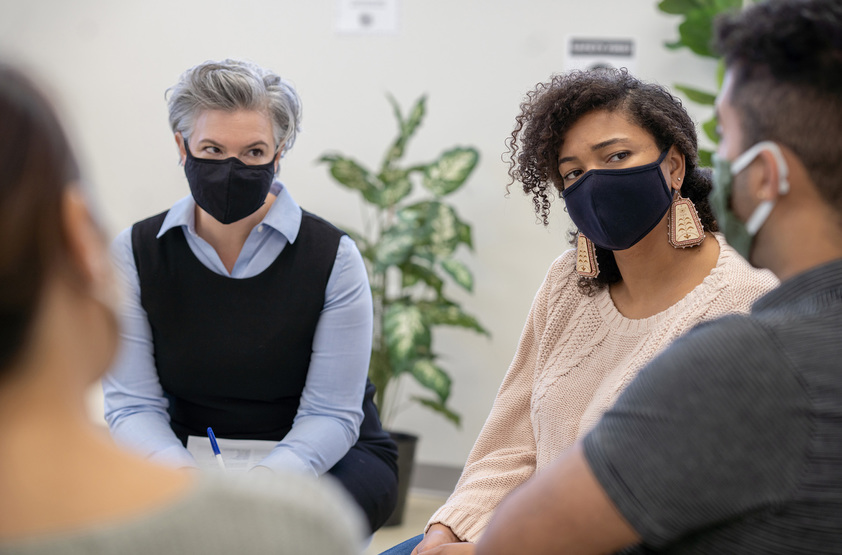 Who This Program is For
You are 18 years of age or older and are seeking help for significant symptoms of depression and/or anxiety and are struggling with substance use. Outpatient or less intensive inpatient treatment experiences have not helped you to achieve lasting recovery.
You might be a healthcare provider (physician/resident, nurse, respiratory therapist, peer worker, etc .) who is experiencing concurrent mood/anxiety and substance use issues which may or may not stem from COVID burnout or moral injury, and you want treatment programming tailored to the unique experiences of your helping profession.
You are seeking a balance of group-based and individual interventions to support you and you value the experience of healing with others, in a community setting and are motivated to make changes that will help you more effectively manage your symptoms and enhance your overall well-being.
Admission to the Program
Therapeutic modalities
The Mood, Anxiety & Concurrent Program helps patients engage effectively in recovery in a group setting and offers:
Cognitive Behavioural Therapy (CBT) for treatment of mood disorders and/anxiety and relapse prevention
Recovery-focused process groups
Dialectical Behaviour Therapy (DBT) skills
Adjunctive therapy and psycho-education sessions tailored to mood/anxiety disorders and substance use disorders
A combination of group therapy and individual therapy
Community based peer support/recovery groups (such as SMART Recovery, AA, and others)
Caduceus groups (healthcare providers only)
We support the use of opioid agonist therapy (i.e. methadone, buprenorphine), and the use of other medications for the treatment of substance use and concurrent conditions when clinically indicated.
91%
The percentage of Individuals with concurrent disorders who report experiencing high psychological distress
53%
The percentage of individuals with concurrent disorders who perceive their mental health to be poor
99%
The percentage of patients who would recommend Homewood to others