Supporting First Responders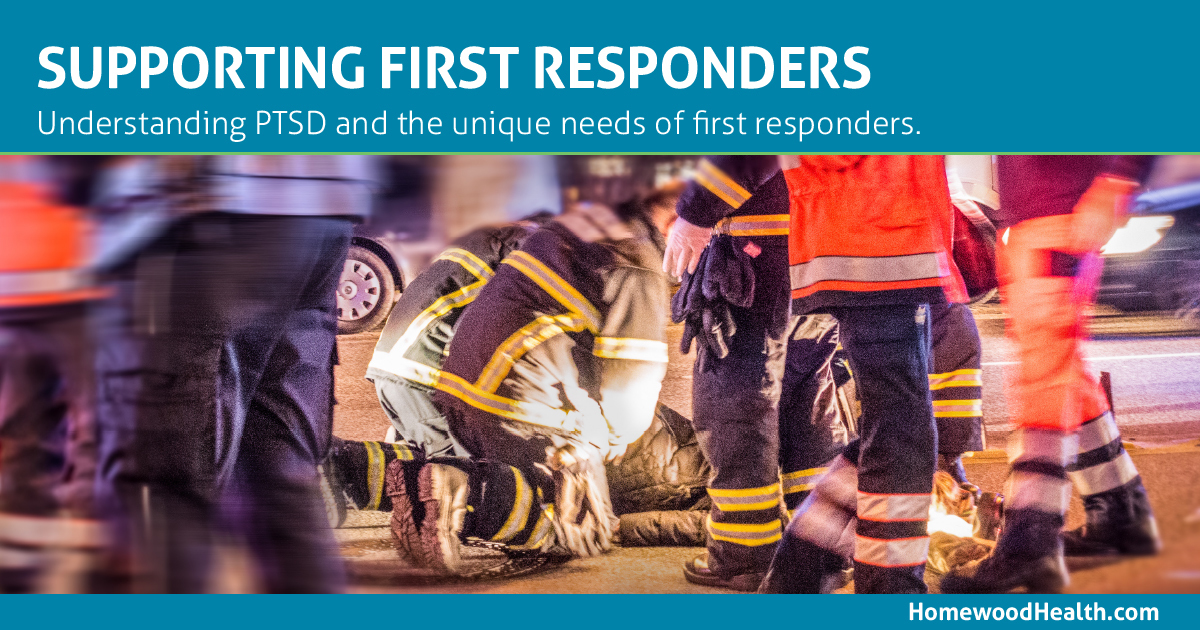 Being witness to, or experiencing traumatic events is not rare – studies show that half of us will experience at least one significant trauma in our lives. Traumatic stress is a normal reaction to events such as automobile accidents, natural disasters, and personal assaults. These events can cause intense and frightening emotions. The emotions can be stressful not only for the survivor but also for those witnessing or providing aid.
Back to home
Those in first responder occupations, such as police, firefighters, and paramedics face daily exposure to life-threatening situations. This constant barrage of contact with abuse, violence, and danger takes a tremendous toll and it can impact health over time and symptoms may continue long after an event. Thankfully, the effects of trauma, especially for first responders, are becoming better known, and this awareness has led to a greater understanding of the support needed for those affected.
Understanding PTSD
Post-traumatic stress disorder (PTSD) is a mental health condition related to anxiety disorders that are triggered by experiencing a traumatic event – either experiencing it first-hand or witnessing it. Following a traumatic event, the impact on individuals is expected to decrease over time with a return to normal daily function. For some, however, the experience may result in on-going symptoms that interfere with day-to-day life. This may be evidence of PTSD.
Not everyone who experiences a traumatic episode will develop PTSD. In Canada, approximately 9.2% of persons who experience a traumatic event will face PTSD symptoms in their lifetime.1
Symptoms
Many people who experience traumatic events may have temporary difficulty adjusting and coping but with time and good self-care, their symptoms may improve. If symptoms worsen, last for months or even years, and interferes with day-to-day functioning, PTSD may be the cause. For first responders, the results of these symptoms may affect their work with serious consequences. Presenteeism, the word given to the scenario where workers' are physically on the job but not fully functioning, is a major concern in the first responder community due to the nature of the work.
Post-traumatic stress disorder symptoms may start within one month of a traumatic event, but sometimes symptoms may not appear until years after the event. PTSD symptoms are generally grouped into four types; Intrusive Memories, Avoidance and Numbing, Negative Thoughts and Mood changes, and changes in Physical and Emotional reactions. Symptoms can vary over time and from person to person and may include: 2
Intrusive Memories:
Intrusive, upsetting memories of the event
Flashbacks (acting or feeling like the event is happening again)
Nightmares (either of the event or of other frightening things)
Avoidance and Numbing:
Avoiding activities, places, thoughts, or feelings that remind you of the trauma
Inability to remember important aspects of the trauma
Loss of interest in activities and life in general
Feeling detached from others and emotionally numb
Negative Thoughts and Mood Changes:
Guilt, shame, or self-blame
Feeling alienated and alone
Feelings of mistrust and betrayal
Difficulty concentrating or remembering things
Depression and hopelessness
Physical and Emotional Reactions:
Sleep disorders
Irritability, angry outbursts, self-destructive or reckless behaviour
Feeling jumpy and easily startled
Treatment
Homewood Health Centre's Program for Traumatic Stress Recovery (PTSR) is one of the few inpatient programs of its kind in Canada. The program facilitates healing from the after-effects of trauma and post-traumatic stress disorder (PTSD) by helping patients develop life-changing symptom-management skills.
According to Charlene O'Connor, Clinical Research Associate, the cornerstone of the PTSR is the therapeutic community milieu, in which clients have the opportunity to benefit from supportive peers along their recovery journey. Within this therapeutic community, trauma-trained staff across the allied health disciplines, including nursing, social work, occupational therapy, psychology, psychotherapy and recreation therapy, provide programming in small group formats.

"The programming is multi-faceted, delivering evidence-based therapies such as emotion regulation skills building, cognitive-processing therapy, mindfulness, interpersonal effectiveness training, recreation/leisure and somatic exploration. Clients also engage in a number of individual therapy sessions with the psychiatrist and their prime therapist," she said.
"The PTSR offers a comprehensive assessment process in the first week of the program, however assessment is not limited to the intensity and frequency of PTSD symptoms. PTSD symptoms are measured along with symptoms often associated with PTSD, including depression, anxiety, dissociation, substance use, moral injury, anger, alexithymia, trauma-related guilt and shame, and everyday functioning. Our standard battery of assessments is completed in the first week of program and again upon discharge to provide reliable indicators of change."
For Natalie Harris, an Advanced Care Paramedic in Ontario, the PTSR taught her the skills she needed to recover from the effects of PTSD brought on by the traumas of her job. Natalie is a passionate mental health advocate as a post-traumatic stress injury, addiction and suicide survivor. No longer working as a paramedic, Harris now spreads awareness about first responders who live with PTSD on her blog, "Paramedic Nat's Mental Health Journey." She has also written a book called Save-My-Life School: A first responder's mental health journey.
"Homewood taught me how it was ok to feel emotions and that they would always pass and that I shouldn't give permanent reality to temporary things. It taught me what co-dependency was and how to heal from it and see my needs as worthy. It demonstrated to me the extreme importance of peer support and how it can open up my mind to the possibility of post-traumatic growth. It taught me how to heal from the guilt my addictions caused me and how to be the best mom I can possibly be. And above all, it taught me that talking is the key to healing from any emotional wound."
Research
Bill C-211, a private member's bill that was passed by the Senate on June 14, 2018 provides a framework that will look at conducting and collecting evidence-based research in order to provide proper care to all first responders, communications officers, corrections workers and military members across Canada. It will unify language surrounding PTSD and look to provide timely care to all of Canada's community heroes. This legislation puts Canada on the map with respect to PTSD care.
The Homewood Health Centre works closely with the Homewood Research Institute (HRI), a not-for-profit organization dedicated to research that transforms mental health evaluation and treatment across Canada. With this collaboration, the clients and staff of PTSR have the opportunity to contribute to efforts to enhance understanding and awareness of PTSD worldwide and the development of new treatments for the disorder.
Currently, Homewood Health Centre is working hard to understand the specific treatment needs of first responders. For example, first responders may require efforts to address moral injury specific to first responders or the stigma experienced by those with mental health issues. Homewood is gathering both quantitative and qualitative data to inform our understanding of first responder-specific treatment needs toward the development of specialized first responder programming. This signals an exciting phase, with Homewood forging a path toward innovative, evidence-based mental health care for first responders.
Lifting the Stigma
Thanks in part to legislation and also increasing attention in the media, public awareness and workplace acceptance continues to grow for those suffering from PTSD. Still, much more work needs to be done to promote education and open discussion with an eye towards prevention and intervention.
"Peer support teams have increased in first responder services after provincial legislation made these services accountable for having such support," according to Harris. She adds, "many first responders are being trained in Mental Health First Aid and in courses like the Road to Mental Readiness (Mental Health Commission of Canada), which is great, but it will still take more time for the stigma of mental illness and injury to subside in order for everyone in the service to use the support that is being offered."
Currently, support for individuals post-treatment varies from organization to organization but Harris adds, in regards to family support, "I think that Homewood provides great aftercare which helps with return to the home environment, but we still need more family-based peer support groups that are accessible to all on a regular basis. Peer support groups such as Wings of Change is looking to add family-based meetings in the future - at this time resources are too limited to provide this."

In addition to the Program for Traumatic Stress Recovery at the Homewood Health Centre, Homewood also offers specialized programs for Trauma and PTSD through outpatient programs at The Homewood Clinics in Vancouver, Calgary, Edmonton, and Mississauga.
References:
CBC The Nature of Things. (2017, January 19). PTSD: Canada Has The Highest Rate, Plus Eight More Surprising Facts. Retrieved March 22, 2018, from http://www.cbc.ca/natureofthings/features/ptsd-canada-has-the-highest-rate-and-other-surprising-things
Smith, M., Ph.D., Robinson, L., Ph.D., & Segal, J., Ph.D. (2018, January). Post-Traumatic Stress Disorder (PTSD). Retrieved March 22, 2018, from https://www.helpguide.org/articles/ptsd-trauma/ptsd-symptoms-self-help-treatment.htm